Play Stationery Picture vocabulary
Learn all Stationery names through pictures in English. Picture vocabulary helps to learn more words with the help of pictures. Here is the picture dictionary quiz, which helps to learn Stationery names. Quiz / Word games that make your learning interesting.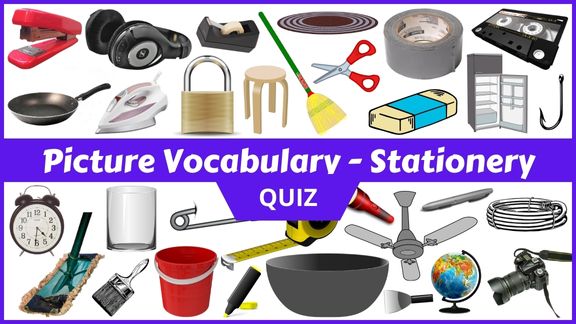 Read also: A-Z Dictionary | Quiz | Vocabulary | Alphabets | Grammar
Play Stationery Picture Quiz
Here is the list of Stationery names with pictures in English language.
Play More Quiz

Day

Job

Law

Gems

Time

Food

Bird

Color

Month

Fruit

Ocean

Cloth

Shape

Crime

Planet

Season

Zodiac

Flower

Plants

Number

Animal

School

Places

Grains

Travel

Cinema

Google

Disease

Climate

Weather

Cereals

Ecology

Meeting

Computer

Minerals

Politics

Religion

Hospital

Greeting

Building
Learn More Vocabulary

Day

Job

Law

Gems

Time

Food

Bird

Color

Month

Fruit

Ocean

Cloth

Shape

Crime

Planet

Season

Zodiac

Flower

Plants

Number

Animal

School

Places

Grains

Travel

Cinema

Google

Disease

Climate

Weather

Cereals

Ecology

Meeting

Computer

Minerals

Politics

Religion

Hospital

Greeting

Building