English Vocabulary
To learn English language, common vocabulary is one of the important sections. Common Vocabulary contains common words that we can used in daily life. If you are interested to learn English words, this place will help you to learn words/vocabulary in English language. Play some games / word Quiz so you get not bored and also play Picture vocabulary. Play and Learn language easily.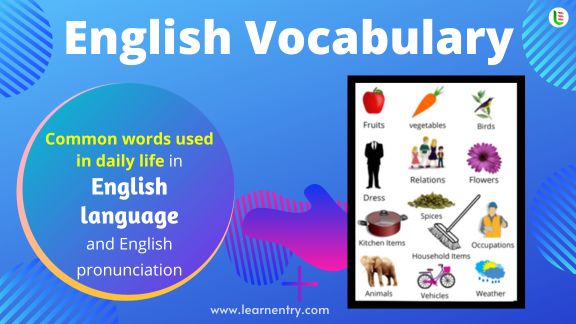 Read also: A-Z Dictionary | Quiz | Vocabulary | Alphabets | Grammar
Here you can learn common words used in daily life in English language. Choose and Click below to learn the common Vocabulary words from A to Z.
A-B-C-D
E-F-G-H-I-J
K-L-M-N-O
P-R-S-T-W-Z
Vocabulary

Day

Job

Law

Gems

Time

Food

Bird

Color

Month

Fruit

Ocean

Cloth

Shape

Crime

Planet

Season

Zodiac

Flower

Plants

Number

Animal

School

Places

Grains

Travel

Cinema

Google

Disease

Climate

Weather

Cereals

Ecology

Meeting

Computer

Minerals

Politics

Religion

Hospital

Greeting

Building
Quizzes